Fan Restoration
- Gino Boccabella -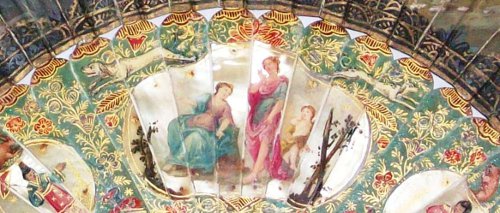 Ivory,
mother of pearl,
tortoise- shell,
papers of various thickness,
kidskin, vellum, parchment,
silk,
tulle,
laces,
gold and silver leaf,
mica,
sequins,
spangles,
feathers and plumes,
precious and semi-precious stones,
straw,
embroidery,
Many, so many materials go into the making of a folding fan....
But very often they are not in the best condition. The great challenge is to bring them back, as much as possible, to their original splendour.
That is certainly not an easy feat, but I have always enjoyed the challenge of finding the most appropriate solutions.
I have been collecting fans for over thirty years and during my research I have often come across specimens in poor condition. When in doubt whether to buy them or not I have often opted for the former.
My profession as an interior designer, added to the great advantage of living in Florence, Italy, has put me in contact with many skilled craftsmen, art connoisseurs and restorers specialized in different fields.
I have acquired information, I have studied and have asked for opinions and advice, and in time I have become a skilled craftsman. With this knowledge I have been able to bring "new life" to objects that seemed destined to oblivion or to be thrown away.
Any damaged fan is a unique problem; in order to find the most suitable solution for its restoration it should be analyzed carefully, without haste.
Very often the fan has been waiting in a drawer for many years, if not centuries, for restoration. A serious and thorough study is the key to an optimal solution of the problem.